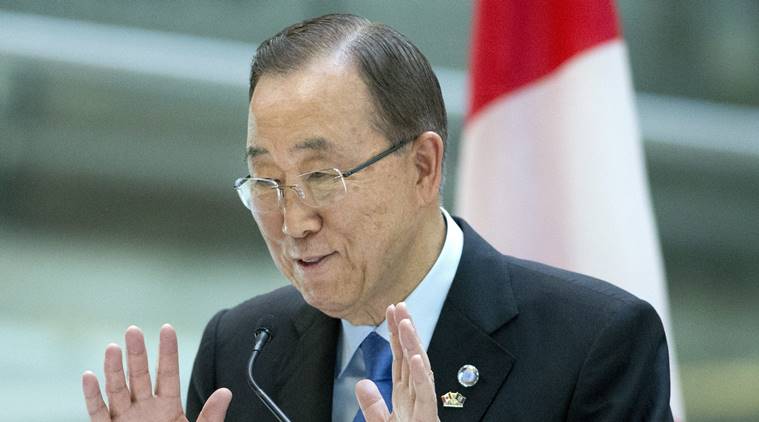 UN Secretary General Ban Ki-moon today said he is "appalled" by those who are resorting to religious bigotry for "political gains", underlining that such "intolerance and opportunism" poisons society.

"Violence against people because of their religious identity or beliefs is an assault on the core values of the United Nations. Such bigotry is also one of today's greatest threats,"
Ban spoke in a video message for the high-level forum on global anti-Semitism at the United Nations.
He voiced concern that alongside a global rise in anti-Semitism, the world is also seeing many other alarming forms of discrimination – in particular hatred and stereotyping directed at today's refugees and migrants.

"I am appalled by those who fan the flames of religious bigotry for political gain. Such intolerance and opportunism does more than poisoning young minds and hearts, it poisons all of society. Time and again, history has shown that those who attack one minority today will target another tomorrow," Ban said in his message.


Ban's strong message comes days after UN human rights chief Zeid Ra'ad Al Hussein lashed out at Donald Trump and Dutch politician Geert Wilders, saying the call by such leaders to ban immigrants from Islamic countries puts them in the same league as the terrorist organisation ISIS.

"Geert Wilders released his grotesque eleven-point manifesto only days ago, and a month ago he spoke along similar lines in Cleveland, in the United States," the UN official said.

"And yet what Wilders shares in common with Trump, (Hungarian prime minister) Orban, (British politician Nigel) Farage, he also shares with Da'esh (ISIS)," Al Hussein had said.

The rights chief had said that the "humiliating racial and religious prejudice" fanned by the likes of Wilders has become "municipal or even national policy" in some countries.

Ban said even though anti-Semitism is one of the world's oldest, most pervasive and deadliest forms of hatred, Jews continue to be targeted for murder and abuse solely because they are Jews, despite the lessons of history and the "horror" of the Holocaust. [Read the original story here…]