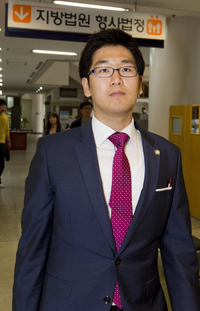 This year, South Korea's Constitutional Court is supposed to rule - again - on the constitutionality of the Military Service Act, which requires the prosecution of conscientious objectors.
This is the third time that the court has heard the case. While the court upheld the constitutionality of the law in 2004 and 2011, there are some cautious predictions that things may turn out differently this time.
In March, a lawyer went to prison. Every day, he faces a gray wall in a cramped room, about 4.61 square meters in area. The prisoner is Baek Jong-geon, 32, who passed South Korea's bar exam in 2008, enrolled in the 40th class at the Judicial Research and Training Institute and was on his way to becoming a lawyer.
Baek had violated Article 88 of the Military Service Act, which states that individuals who have been instructed to report for military service and refuse to serve without "justifiable grounds" are to be sentenced to a maximum of three years in prison. Baek was the first lawyer to break this law – which is not what you would expect of someone who by profession has to eat, sleep and breathe the law.
"I still have a vivid memory of what happened," Baek said, recalling his memories. When a Hankyoreh reporter met him in July, he was sitting on the other side of the glass partition in the visiting room.
Baek was four years old when he met his father in the visiting room of the Daegu Prison in 1988. His father, Baek Seung-u, 57, had been court-martialed and imprisoned for insubordination. The elder Baek was a doctor – and a Jehovah's Witness.
Baek continued in a steady voice. "I deeply respect the hard work and sacrifices of young people who serve in the military. I want to serve my country as they do, just in a different manner. I fought this for six years in the courts, calling for the introduction of an alternative form of civil service, but I eventually lost, and here I am," he said.
Instead of the word "prison," the Jehovah's Witnesses use the word "neutral," meaning that they are maintaining their military neutrality. Instead of saying that they "go to prison," they say they "go neutral." Baek is in prison not so that he can shirk his military service, but rather with the belief that he is staying neutral in military affairs.
"The prison guards tell us they know we can't help being here and that we didn't commit any crimes," Baek said. The conscience that put him in prison earns him consideration instead of condemnation. Conscientious objectors are generally given work assignments in the prison where help is needed. They are put in charge of looking after and nursing the elderly and those with dementia and of cleaning the offices used by prison staff. Thus, a sort of alternative service is being practiced inside the prison.
Conscientious objectors receive a relatively heavy sentence of 1.5 years
According to the 2015 judicial almanac published by the Supreme Court, 14% of people who are tried each year are sentenced to at least one year in prison, and 6% are sentenced to at least three years in prison (in terms of district court rulings). Conscientious objectors receive a relatively heavy sentence of one year and six months. This one year and six months is the desperate measure that judges take to prevent conscientious objectors from receiving another order to report for duty.
A few judges exonerate conscientious objectors on the grounds of the "judge's conscience." This year alone, judges issued two not guilty verdicts. These are strictly lower-court rulings that do not follow Supreme Court precedent.
A judge at one district court described the situation as follows: "All of us feel uncomfortable with these rulings. The issue could be solved by simply creating an alternative service system, but since there's no law in place, we have to keep convicting conscientious objectors. Whatever preventive effect the punishment once had has vanished long ago. We keep convicting conscientious objectors, and more keep coming. It's been the same for decades now. That means that the government should get involved and set up a program."
Some prosecutors apologize to conscientious objectors when bringing charges against them, and some judges even shed tears when reading the sentence. Last year, 493 cases were brought against conscientious objectors; as of August of this year, there were 141. Baek is supposed to be released from prison in September of next year.
Lim was the student body president at a university in Seoul. Hearing about the innocent people dying in the US invasion of Iraq – including a South Korean, Kim Seon-il – further confirmed his decision to refuse to serve in the military.
When he was sentenced to one year and six months in prison, Lim remembers the judge addressing him in the following words: "You argue that your refusal to serve in the military is the way to stop war, but there has never been a time in human history without war. Preparing for war is the way to keep the peace."
After prison, becoming a lawyer to help fellow conscientious objectors
Lim went to prison in Jan. 2005. After being released, he graduated from university and became a lawyer at Haemaru Law Firm in April 2015. The man who broke the law has now become a lawyer defending others who intend to defy the Military Service Act.
"In my spare time, I represent conscientious objectors on a pro bono basis. The Busan District Court is currently trying Kim Jin-man [29-years-old] for breaking the Military Service Act. Just like me, Kim says that he is refusing to serve in the military because of his beliefs about peace," Lim said.
"I'm not defending him so much as I'm giving him plenty of chances to talk in court. For their entire life, conscientious objectors are pestered about why they refused to serve in the military. Having had the chance to speak his mind in court will provide him some consolation when he goes to prison."
At first, Lim's mother couldn't understand why he was refusing to do his military service, and for a while she didn't visit him in prison. But as she was putting away the tofu that friends had given Lim upon his release from prison (according to a Korean custom), she said, "You didn't commit a crime, so why should you eat tofu? If the government had made a law, this wouldn't have happened."
Lim plans to remain involved in the peace movement inside the legal establishment. He believes that that's the right thing to do for his mother and for his country.
[Read more here...]
Note: This page does NOT use Google Adsense. All the sponsors were personally selected by me. Please continue to support this page by clicking on the ads. To see other products I endorse, click here.
To return to the home page, click
here
.